KKC
KKC VBS 2019 Roar (registration is closing soon)
Hardcopy of registration forms are available at Canning Garden Baptist Church office from Mon to Sat,  9.00am – 5.00pm.
Online registration is also available at
https://docs.google.com/forms/d/e/1FAIpQLSdtGPOKekRxvx36wSZLJl7Mde1NoUPcjotd5gcH_iOhTk3LUA/viewform?vc=0&c=0&w=1
Our Champions for Sept 2019
Date: 22/09/2019 KKC Mini VBS – God Is Our Friend
Date: 2019-08-25 Jesus is Our Good Shepherd
Date: 2019-08-18 Be Kind to Others
Date: 2019-08-04 God Forgives Us
Date: 2019-07-28 Fools Love Money
Money cannot buy everything. It cannot buy health, joy and eternal life.
Date: 2019-07-21 The Future If Forever
God knows the future and is in control. Be prepared for Jesus will return to judge and rule the universe.
Date: 2019-07-14 KKC Special Mini VBS – Bugs Safari
we cannot hide from God. God knows everything.
Date: 2019-07-07 Getting Right With God
 Our champions for the month of June 2019
Date: 2019-06-30 The Seed and Soil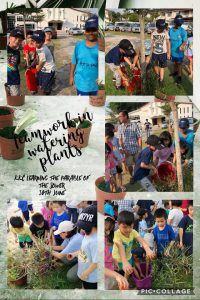 Date: 2019-06-23 Rock or Sand Foundation
Date: 2019-06-16 Father's Day
Date: 2019-06-09 Honour Your Father And Your Mother
We are teaching our children to put into practice what they have learnt. Let's partner in bringing up a generation that fears God and respect their parents.
Date: 2019-05-26 The Decaying Universe Awaits For God To Recreate Its Splendor
Date: 2019-05-19 Be Ready As Jesus Is Coming Back To Earth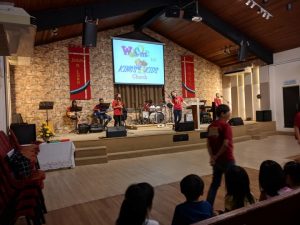 Date: 2019-05-12 Blessed Mother's Day
Date: 2019-05-05
Date: 2019-04-21 Jesus is Alive !
Matthew 28:6 (NIV)
He is not here; he has risen, just as he said. Come and see the place where he lay.
Date: 2019-04-14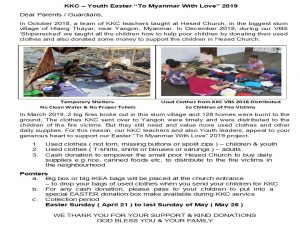 Date: 2019-03-30 Outing To Taiping Zoo
Date: 2019-03-17 Heaven and Hell are Real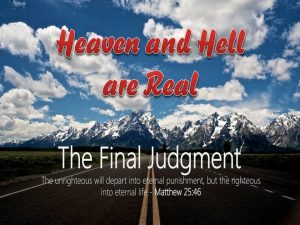 Heaven and hell are real and God's love is real too. He created us to spend eternity with Him in heaven. Jesus will judge all of us. The wicked will be condemned while the righteous will be rewarded. In KKC tomorrow, children will be reminded that when we live a life according to God's way and put our trust on Jesus to help us, we will be with Jesus forever in heaven.
Date: 2019-03-10 Forgiveness 
In KKC this Sunday, children will learn that forgiveness is a very important practice in lives. Without the forgiveness of God our Father in heaven, we will remain living in darkness and without hope. As Jesus forgives us of our sins, we are to forgive others. We should look beyond the surface and see the goodness within others so that we can love others as Jesus loves us. Let our children live a healthy lifestyle as unforgiveness can create bitterness and anger that holds them back to excel in lives.
Date: 2019-03-03 Love Your Enemies
Matthew 5:44 (NKJV)
But I say to you, love your enemies, bless those who curse you, do good to those who hate you, and pray for those who spitefully use you and persecute you,
Date: 2019-02-24 KKC Got Talent
Date: 2019-02-10 Chinese New Year Celebration