King's Kids Church (KKC)
Date: 04/04/2021 Easter Special
Easter is a celebration of hope, love and eternal life. With the death and resurrection of Jesus Christ, man can have a second chance of a secured eternal future with God our heavenly Father. A blessed Easter to you.
Date: 28/03/2021 God Will Help Me Put His Work First
When we put God first in our lives and do what He wants, He will make sure we will have all that we need.
Date: 21/03/2021 God Will Help Me Tell Others About Christ
Those who know Jesus know there is hope for a better tomorrow.
Date: 14/03/2021 God Will Help Me Build My Life On The Words Of Jesus
God's love and promises are our sure solid foundation in life. We can count on and trust Jesus for what He says, He will do.
Date: 07/03/2021 God Will Help Me Love Jesus More Than Anything Or Anyone Else
Let us love the Lord with all our heart, soul and mind and love one another as how God has loved us.
Date: 28/02/2021 God Will Help Me Be Content Where He Has Me
Trust God to provide for all our needs. Be contented with where God put us in and when we are contented, we will begin to appreciate the things around us.
Date: 21/02/2021 God Will Help Me Use My Talents To Bless Others
God bless us with talents. So "show love in everything you do." 1 Corinthians 16:14
Date: 07/02/2021 KKC Chinese New Year Special Edition
Date: 31/01/2021 God Will Help Me Count The Cost And Really Change My Life
There is a price for everything and Jesus paid the biggest price for our sins.
Date: 24/01/2021 God Will Help Me Celebrate The Great Things He Is Doing
Stay focus and rejoice in the Lord in all situations and circumstances we are in.
Date: 17/01/2021 God Will Help Me Be Ready For Anything
The Word of God get us ready to face challenges in life.
Date: 10/01/2021 Looking Back Moving Forward
We may not be able to control what happens around us but we can choose to face them with God's help.
Lamentations 3:22-23 (ESV)
Date: 27/12/2020 Be Thankful At All Times
The more we profess thankfulness, the more we will notice the things that we can be thankful for.
1 Thessalonians 5:16-18 ERV 
Always be full of joy.
Never stop praying.
Whatever happens, always be thankful. This is how God wants you to live in Christ Jesus.
Date: 20/12/2020 Christmas Celebration
Christmas is Christ
Date: 13/12/2020 No Room In The Inn
God gave us the greatest power that is the power to choose. Choose Jesus. Make room for Him in our heart.
John 1:14 (GNT)
The Word became a human being and, full of grace and truth, lived among us.
Date: 29/11/2020 KKC VBS – Jesus' Power Helps Us Be Good Friends
Date: 22/11/2020 KKC VBS – Jesus' Power Lets Us Live Forever
Romans 8:11a (NLT)
The Spirit of God, who raised Jesus from the dead, lives in you.
Date: 15/11/2020 KKC VBS – Jesus' Power Helps Us Be Bold
Date: 08/11/2020 KKC VBS – Jesus' Power Gives Us Hope
Date: 01/11/2020 KKC VBS – Jesus' Power Helps Us To Do Hard Things
Date: 25/10/2020 The Father's Love
The heart of our Father in heaven is to pour out mercy and not judgement. He is ever ready to forgive us of our sins when we repent and turn back to Him.
Date: 18/10/2020 The Father Loves Us And Wants To Bless Us
God is always looking for ways to bless us. His greatest love for us is when He sent Jesus to be punished for our sins.
Date: 11/10/2020 The Father's Heart Is For His Children
God created the heaven and the earth for us, His children. He knows us even before we were born.
Date: 27/09/2020 Follow Jesus No Matter What
It is never easy to live right in the world but take heart for God knows and He will reward us for standing firm in doing what pleases Him.
Date: 20/09/2020 Make Peace With Everyone
Live at peace with everyone even though we are not in the wrong.
Date: 13/09/2020 A Pure Heart Will See God
A pure heart is one that is free from wickedness. God know we cannot be pure by our own. We need Jesus. Only those who have a strong desire to please God will see and know God.
Date: 06/09/2020 Show Mercy To Receive Mercy
The greatest mercy is when Jesus died on the cross & took the punishment for our sins.
"Happy are those who are merciful to others; God will be merciful to them!"
Matthew 5:7 (GNT)
Date: 30/08/2020 I Want To Do The Right Thing
When we do what is right according to God's law, our lives are complete and we will enjoy the full blessings from God.
Date: 23/08/2020 Let Go, Let God
Meek is not weak. It is our inner strength in control over our outer strength.
"Happy are the meek, they will receive what God has promised. " Matthew 5:5
Date: 16/08/2020 I'm Sorry, God
When we mourn for our sin and the sin of others, God will comfort us.
"Happy are those who mourn; God will comfort them!" Matthew 5 : 4 GNT
Date: 09/08/2020 I Need You, God
We are to increasingly give over the control of our lives to God. Without God, we are nobody and our lives will be empty and hard.
"Blessed are the poor in spirit, for the kingdom of heaven belongs to them." Matthew 5 : 3 (NIV)
Date: 02/08/2020 WOW Science Sunday
God is faithful, gentle and yet powerful. He gives us a reason to live, to show others what love is.
(For full video please click link below)
https://drive.google.com/file/d/12R8JjWPfL9VviEbqd_2QiC7WoIREkUY4/view?usp=sharing
Date: 26/07/2020 Do What The Lord Says
Head knowledge is nothing until we put them into practice.
Date: 19/07/2020 God Loves It When We Help Others
Jesus is our good example to live a righteous life. He teaches us to serve with humility and joy.
Date: 12/07/2020 God Helps Us To Live A Clean Life
Living a life that pleases God cannot happen until God changes our mindset and values
Date: 05/07/2020 A Friend In Need Is A Friend Indeed
Love is giving and not receiving
Date: 28/06/2020 Self-control
We must allow God to take over in the things we say and do
Date: 21/06/2020 Blessed Father's Day
A father is God's greatest gift to every family.
Date: 14/06/2020 Gentleness
Gentleness is not weakness. It is treating others with care.
Date: 07/06/2020 Faithfulness
Without faith, it is impossible to please God. 
For the Lord is good. His unfailing love continues forever and His faithfulness continues to each generation.     (Psalm 100:5)
Date: 31/05/2020 Crossing Our Jordan………Moving Forward
Just like how the Israelites crossed the Jordan river into the Promised Land, God will help us to step back into the world as we will be stepping out of the CMCO soon.
Date: 24/05/2020 God Never Changes
Things and people change but God never changes
Date: 17/05/2020 Goodness
Goodness is doing right, day and night
Date: 10/05/2020 Blessed Mother's Day
Mothers are gifts from God just as children are gifts to all mothers. 
Date: 03/05/2020 Movie Day
Dear parents, it's been 45 days since first lockdown. We thank God that all is well because of Him. As many parents will be going back to work on Monday 4/5, we pray for God's protection and favour to be upon them. As this weekend may be the last weekend of lockdown for many, we want to share a few good movies for your family time as there is no KKC today. Happy viewing and may you have a wonderful weekend.
Below are the link to the movies

Date: 26/04/2020 Kindness (Meekness)
Kindness is that special feeling we have towards people as the love of Christ shines through us
Date: 19/04/2020 Attitude is Everything
Date : 12/04/2020 Easter Celebration
Date: 08/03/2020 Patience
Patience is developed through longsuffering
Date: 01/03/2020
NO KKC on this Sunday. Have a blessed week.
Our Champions for Feb 2020
February – Fruit of the Spirit

Date: 23/02/2020 Peace
Peace starts small and grows into a priceless gem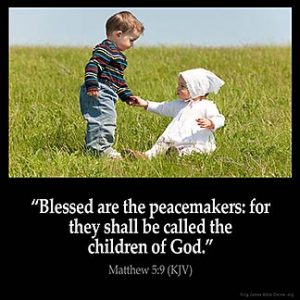 Date: 16/02/2020 Joy
True joy is a gift from God
Date: 09/02/2020 Love
Love one another as God has loved us
Date: 02/02/2020 Chinese New Year
Our Champions for Jan 2020
Our CHAMPIONS for 2019
Our Champions for Nov 2019
Our Champions for Sept 2019
Date: 22/09/2019 KKC Mini VBS – God Is Our Friend
Date: 2019-08-25 Jesus is Our Good Shepherd
Date: 2019-08-18 Be Kind to Others
Date: 2019-08-04 God Forgives Us
Date: 2019-07-28 Fools Love Money
Money cannot buy everything. It cannot buy health, joy and eternal life.
Date: 2019-07-21 The Future If Forever
God knows the future and is in control. Be prepared for Jesus will return to judge and rule the universe.
Date: 2019-07-14 KKC Special Mini VBS – Bugs Safari
we cannot hide from God. God knows everything.
Date: 2019-07-07 Getting Right With God
 Our champions for the month of June 2019
Date: 2019-06-30 The Seed and Soil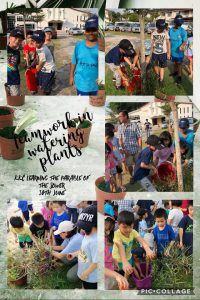 Date: 2019-06-23 Rock or Sand Foundation
Date: 2019-06-16 Father's Day
Date: 2019-06-09 Honour Your Father And Your Mother
We are teaching our children to put into practice what they have learnt. Let's partner in bringing up a generation that fears God and respect their parents.
Date: 2019-05-26 The Decaying Universe Awaits For God To Recreate Its Splendor
Date: 2019-05-19 Be Ready As Jesus Is Coming Back To Earth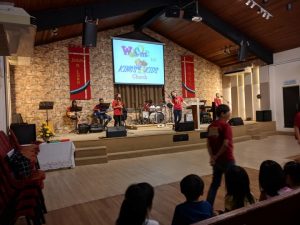 Date: 2019-05-12 Blessed Mother's Day
Date: 2019-05-05
Date: 2019-04-21 Jesus is Alive !
Matthew 28:6 (NIV)
He is not here; he has risen, just as he said. Come and see the place where he lay.
Date: 2019-04-14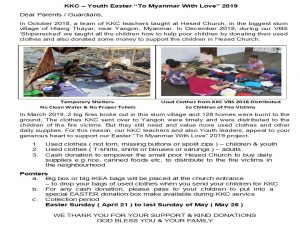 Date: 2019-03-30 Outing To Taiping Zoo
Date: 2019-03-17 Heaven and Hell are Real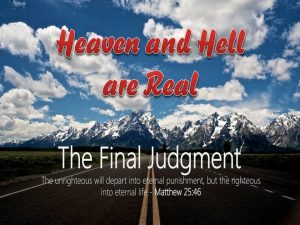 Heaven and hell are real and God's love is real too. He created us to spend eternity with Him in heaven. Jesus will judge all of us. The wicked will be condemned while the righteous will be rewarded. In KKC tomorrow, children will be reminded that when we live a life according to God's way and put our trust on Jesus to help us, we will be with Jesus forever in heaven.
Date: 2019-03-10 Forgiveness 
In KKC this Sunday, children will learn that forgiveness is a very important practice in lives. Without the forgiveness of God our Father in heaven, we will remain living in darkness and without hope. As Jesus forgives us of our sins, we are to forgive others. We should look beyond the surface and see the goodness within others so that we can love others as Jesus loves us. Let our children live a healthy lifestyle as unforgiveness can create bitterness and anger that holds them back to excel in lives.
Date: 2019-03-03 Love Your Enemies
Matthew 5:44 (NKJV)
But I say to you, love your enemies, bless those who curse you, do good to those who hate you, and pray for those who spitefully use you and persecute you,
Date: 2019-02-24 KKC Got Talent
Date: 2019-02-10 Chinese New Year Celebration